Tried out Alkaff Mansion during Restaurant Week 2013 after hearing about it from Ivy and read the reviews about it!
Alkaff is located at Telok Blangah Hill Park, which means there'll be a little walk from the bus stop for those who are not driving. It's a majestic mansion and at its hidden location, it felt really tranquil and romantic. I didn't take any photos of the exteriors because I was already late for my reservation.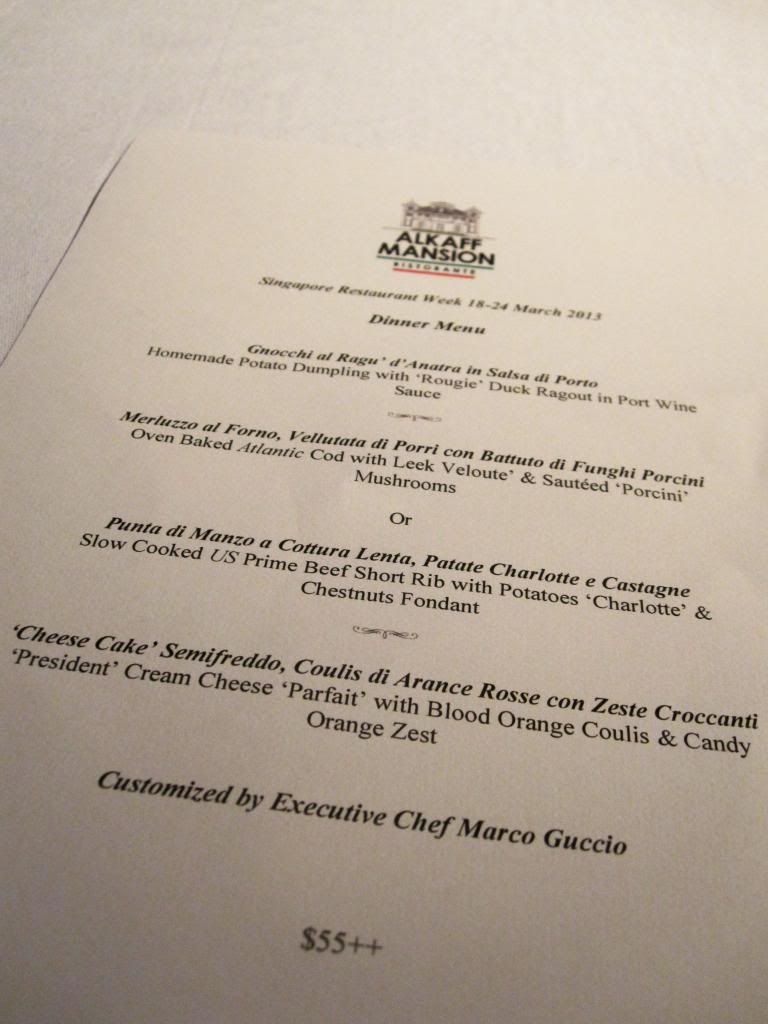 First off, the dinner started off with a complimentary starters which was not in the menu. A really nice surprise from the restaurant.
We had an argument on whether this was tuna or tenderloin because we heard differently from the waiter. He was speaking wayyyy too fast. Reviews said it was tuna though.
First course was the Homemade Potato Dumpling with 'Rougie' Duck Ragout in Port Wine Sauce.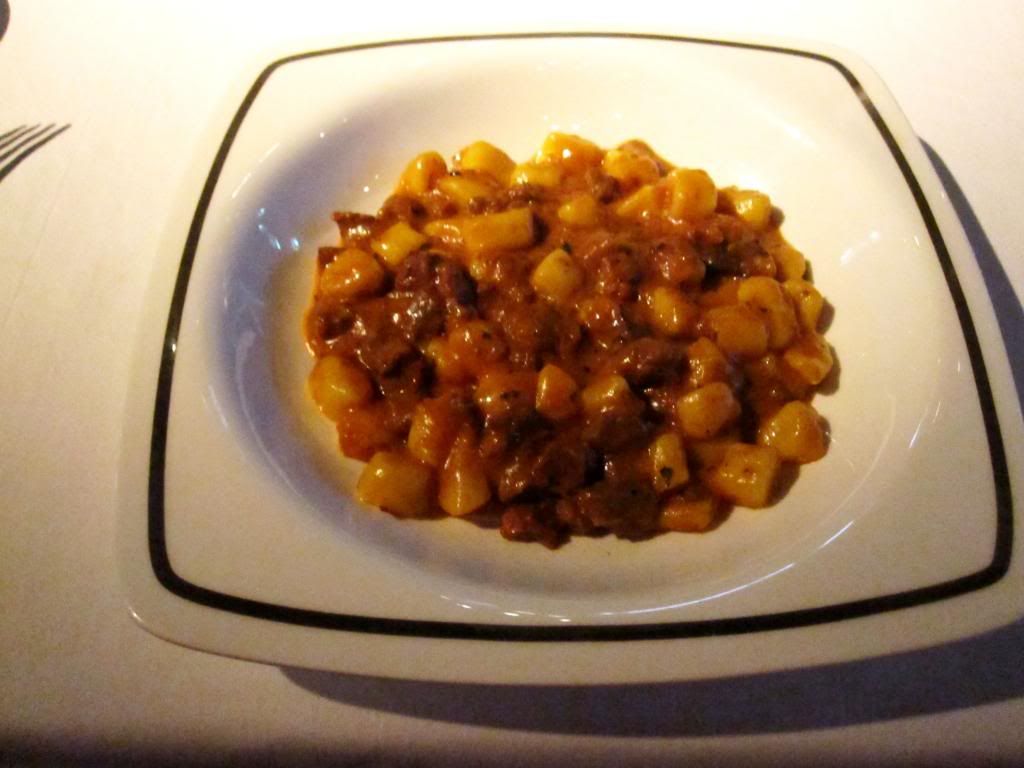 The potato dumplings were really soft and smooth. Looks like marshmallow covered with sauce instead. It was really good though.
Mains for me was the Slow Cooked US Prime Beef Short Rib with Potatoes 'Charlotte' & Chestnuts Fondant and A had Oven Baked Atlantic Cod with Leek Veloute' & Sautéed 'Porcini' Mushrooms.
His cod.
My beef.
The beef was surprisingly delectable and tender. It melts in the mouth. The sauce complemented the meat very well. However, the cod was not up to standard. It felt pretty normal and the mushrooms did not suit our taste buds. Do not judge the main course by it's portion size. It looks small, but it was filling. Maybe it wont be that filling for guys.
Dessert was 'President' Cream Cheese 'Parfait' with Blood Orange Coulis & Candy Orange Zest.
Just the right dessert when I was craving for cheesy food. It felt like frozen cheesecake but the biscuit crumbs inside the parfait was yummy. There were too little crunchy bits though. I like how the orange zest complemented the parfait.
Service was wonderful. I called in to ask about the menu for Restaurant Week but nobody answered the phone so I tried emailing. To my surprise, I received a reply 10 minutes later from their guest relations manager. Usually restaurants don't reply to emails that fast. The waiters were attentive and regularly come over to help refill our water. Speaking of which..
This cost us a whooping $9.
I would prefer it if the tables were spaced further apart. Initially there wasn't anyone sitting next to us so it was fine. As the restaurant gets crowded, both tables beside me were occupied and I can hear the other party's conversation and despite trying not to speak too loudly, I'm pretty sure others can hear our conversation as well. Besides that, I think we got a lot of weird stares maybe because we're the youngest customers there. The looks that people gave kinda says "what are you doing here? Can you afford it?" Hate to say this but I kinda felt that some waiters gave the exact same look too. WHAT. WHY CANT WE BE HERE. PFFFT.
Overall it was a wonderful dinner experience. One of the managers volunteered to help us take a photo when he saw us attempting to take by ourselves. We wanted to take a photo with the mansion as the background and the receptionist even recommended places for us to stand. I bet they must have received a lot of such requests.
Our bill came up to a total of $140. I have to admit this is not exactly pocket-friendly and I guess it would be much more expensive if it wasn't for Restaurant Week. I guess the service, ambience and the quality of the food makes up for the price.
And the receptionist suggested a photo by the fountain.
our self-shot. Not quite there yet..
Will be back for special occasions I guess. This restaurant is a ideal place for romantic dates and quiet evenings.
Alkaff Mansion Ristorante
10 Telok Blangah Green
Singapore 109178