Finally gonna blog about BKK trip after a month plus..? BKK was our very first official holiday together! (Korea doesnt count. Batam was a getaway. LOL) & it was our first time to BKK. I'M A TRUE BLUE SINGAPOREAN NOW! Someone said I wasnt a Singaporean until I've been to JB, KL and BKK.
Thoughts of BKK:
1. The whole BKK is out to scam you.
2. Food's super yummy and cheap!
3. Shopping is love.
4. Indeed the land of smiles.
5. Massage at 200baht?! Massage everyday only!
May15 was the date I was looking forward to. 1 day after A's exams (liberation like finally!) We took AirAsia and flight was at 2.40pm. Had a lot of time in the transit area. Still love the feeling of going in for leisure and not work.
the usual cloud shot :D
Reached Don Mueang Airport and everything was rather fast and hassle-free. Went to the taxi stand outside and the first thing that greeted me was the heat. Took the cab to Baiyoke Sky Hotel and it was fast! Not much jam. Speaking of which, I've read so many posts on needing to pay tolls and stuff, and there were different lanes (some were toll lanes) but the taxi driver did not take the toll lanes and hence, no toll payment needed. It cost us 210 baht from DMK airport to Baiyoke Sky Hotel (160 baht and the mandatory 50baht surcharge).
Walked to the nearest 7-11 to get our prepaid card and then relied on google maps to get us to our hotel! After researching on many hotels, we decided on Tango Vibrant Living Place. It's small, comfy, cosy and cheap! Took us a while to get 3G and figured our way to Tango. Turns out that it was in one of the smaller alleys opposite Indra Regent Hotel. Check-in was smooth. Was surprised at the interior of the room.
I think that Tango's a rather comfy place to stay for 2. After all, we only need the room to sleep :D
By the time we settled down in our room, it was already 6+pm. Then it's time for my surprise dinner! For this part, the boy did the planning since it was suppose to be my belated birthday dinner.
Took the cab to Spring Summer. The taxi driver quoted us 200baht and we took it cos we didnt really know where the place was located at. A knew about this place through some Chinese shows on BKK.
It looks like a very posh restaurant but surprisingly enough, there was no dress code. A went in shirt, berms & slippers.
Food was a fusion of western and thai, and apparently, the restaurant was owned by some Thai actor.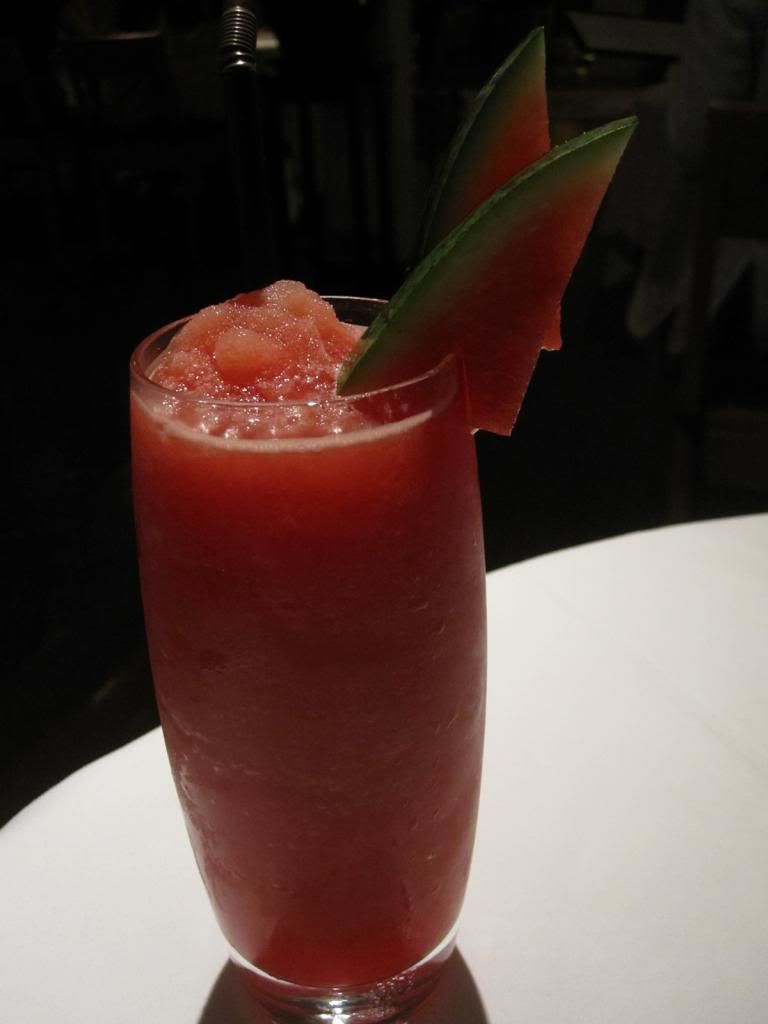 Really really refreshing watermelon drink to combat the heat.
Cant remembered what was the name of the dishes we ordered):
I think the highlight of the place is this..
Sorry for the dark photo. I tried my best. They have a lawn! In fact, the lawn was the first thing that greeted us when we walked in. & that was a huge reason why A decided on this place (instead of all the popular sky bars. Definitely visiting those skybars on my next trip to bkk!)
Went to the lawn for some drinks after dinner.
It was rather nice just lying on those beanbags, chilling and chatting under the starry sky. It would have been better if it wasnt that warm. Haha. The lawn was filled with people despite the heat and it's really an interesting feature in that entire place. If only it's not right next to the road.
The bill came up to about $100 odd for 1 starter, 2 main course, 2 non-alcoholic drinks and 2 alcoholic drinks which I think is pretty okay given that it would have been much more expensive in Singapore.
It was a quiet road so we werent sure if it was easy getting a cab. Besides, Cyril mentioned that another way to not get cheated for taxi rides is to just enter the cab like a local and give your location. We were a bit sceptical initially. What if we enter, give a location, and the taxi drove us off, quoting an exorbitant price? In the end, we decided to try that method after waiting for a cab for quite some time. Ok, I got scared cos the cab driver turned over to look at us very scarily, like those in the horror movie where he turned back really slowly and creepily. Nonetheless, it worked! The driver turned on the meter and drove off and the fare was 75baht back to Indra Regent. 75 BAHT. COMPARED TO THE 200 BAHT WE PAID EARLIER. SEE THE DIFFERENCE?!
(However, we never tried that method after this one time again) Lol.
Returned to the hotel and ZZZZZZZ.